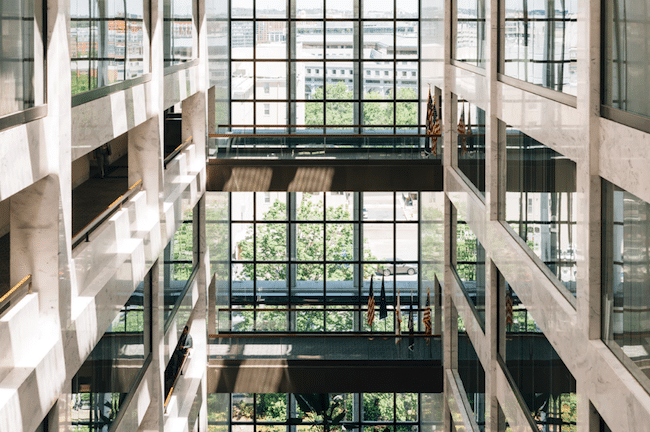 Fannie Mae and Freddie Mac, the two major government-sponsored players in mortgage lending, made headlines this past quarter as talk of a potential phase-out and an end to the FHFA conservatorship sparked questions and concerns for 2019.
Conservatives Call for a Phase Out
MarketWatch reported talk of phasing out both enterprises from the housing sector during an informal discussion about how to tackle rising housing costs at the Heritage Foundation's CPAC booth. The conservative think tank's Joel Griffith said while state zoning and environmental regulations are affecting the housing supply, the federal government is driving up prices by subsidizing loans with Fannie and Freddie.
"The goal is to gradually take it back to where the market was before the creation of these two agencies in 1968," Griffith said. "If you phase it out, you'll see housing prices gradually return to those norms."
He was also critical of lawmakers from both political parties for supporting housing loans that encourage people to put less down and go with a longer loan, usually for about 30 years.
While a total phase out of the GSEs is unlikely in the near future, an end to the FHFA conservatorship seems more realistic.
FHFA Conservatorship: An End in Sight
American Banker questioned the conservatorship end date and the likelihood of GSE reform, as efforts for comprehensive housing finance reform kept getting derailed. The article recalled when, back in 2008, Fannie and Freddie were initially placed in conservatorship and how then-Treasury Secretary Henry Paulson called for an address of the structural issues presented by GSEs. While the companies have since stabilized under the watch of Treasury and the Federal Housing Finance Agency and the FHFA has taken steps at administrative reform, concerted efforts to pass GSE reform have failed.
Meanwhile, debates raged on over the necessity of the conservatorships, how the takeover has affected the GSEs' capital and whether the government should simply let go of the GSEs.
In fact, acting director of the FHFA Joseph Otting told the agency's employees (back in January) that the regulator will announce a plan within weeks to take the government-sponsored enterprises out of conservatorship. While a spokesperson for the agency denied any talk of timing or details, a few months later, President Donald Trump officially called for an end to the conservatorship of Fannie Mae and Freddie Mac, according to a White House release on March 27.
The statement said that Fannie and Freddie have grown in size and reach, yet face no competition from the private sector and that the Department of Housing and Urban Development programs are exposed to too much risk while relying on outdated processes.
This should come as no surprise, considering that the Trump administration called for ending the conservatorship of Fannie and Freddie last year as part of a plan that would overhaul the federal government.
A Brief History of the FHFA Conservatorship
With the consent of both Fannie Mae's and Freddie Mac's board of directors, the companies were placed into conservatorship by the FHFA in September of 2008. According to FHFA, the agency established two conservatorships in response to a substantial deterioration in the housing markets that severely damaged each company's financial condition and left both of them unable to fulfill their missions without government intervention.
The conservatorships initially focused on reducing Fannie and Freddie's losses, reducing their operational and credit risk, and stabilizing the mortgage and housing markets. Once they returned to profitability, FHFA turned its focus to more long-term issues such as foreclosure prevention, reduction of taxpayer risk, and building new single-family securitization infrastructure.
The government intervention of Fannie and Freddie is the largest in government history and was deemed a necessary step to prevent the damage that would be caused in the wake of their failure.
An Ongoing Transition Period
Considering the rumblings and headlines, it seems that Fannie Mae and Freddie Mac are undergoing a continuous transition period. Both companies recently announced new CEOs, and the FHFA just confirmed a new director, Mark A. Calabria, who was formerly the chief economist for Vice President Mike Pence.
Despite an uncertain future, Fannie reported a net income of $3.2 billion and net revenue of $5.1 billion for the fourth quarter of 2018. For the year, it recorded net income of $15.6 billion and net revenue of $21.9 billion. Freddie, on the other hand, had a fourth-quarter net income of $1.1 billion. For the full year, net income was $9.2 billion, up from $5.6 billion in 2017.
With billions at stake, the uncertain climate coupled with the talk of conservatorship and phase-outs raises many questions and implications about each company's financial footing, strategy, and role in the mortgage industry.
Questions Facing Fannie Mae & Freddie Mac
National Mortgage News took a stab at answering five big questions surrounding Fannie and Freddie in 2019. We've summarized the answers to paint a clear picture of the GSEs' effect on the industry.
Question 1: Could the FHFA's proposed capital rule change how its financials look?
Key Takeaways: The capital rule being floated by Fannie Mae and Freddie Mac's regulator and conservator could make a big difference when it comes to both GSEs' financials.
Answer: Hypothetically, yes. If credit scores were to fall due to the increasingly competitive lending landscape, capital requirements could increase.
Question 2: Can Fannie and Freddie help close the affordable housing gap?
Key Takeaways: The shortage of affordable homes that followed the financial crisis a decade ago is something that has been exacerbated by higher mortgage rates over the past few years.
Answer: No — not alone, anyway. Interim CEO Hugh Frater had said it would require collaboration and that they are "committed to participate, and, where appropriate, lead efforts."
Question 3: Are dwindling distressed sales likely to reduce GSE profits?
Key Takeaways: Redesignations and investment on sale of re-performing and nonperforming loans have been a significant driver of both GSEs' recorded income — but that could change.
Answer: Potentially yes. "We may see less benefit in 2019 to the extent the population of loans we are considering for sale declines," said Fannie Mae CFO Celeste Brown.
Question 4: How will shifts in the accounting landscape reconfigure results?
Key Takeaways: The impact of tax reform on their deferred tax assets, for example, put big dents in their fourth-quarter earnings last year.
Answer: Many factors that affect how the GSEs' record their results have been or are in flux. "There will be an increase in reserves probably, and then each quarter you'll have more instability of credit risk and loan loss provisions given that it's a full valuation," Freddie Mac CEO Donald Layton said. "But both of these would be ameliorated by credit risk transfer to a degree."
Question 5: What will the new Uniform Mortgage-Backed Security mean for the GSEs?
Key Takeaways: Fannie Mae was the largest secondary market purchaser of single-family mortgages in 2018, while Freddie Mac ranked third.
Answer: The change could be for the better. The UMBS was created to resolve differences in Fannie Mae's and Freddie Mac's cash flows and market shares in ways that would improve the performance of the GSEs' MBS.
All things considered, it's impossible to know for sure how 2019's changes will unfold for these two GSEs. As the White House works with Congress to create a comprehensive plan for housing finance reform, one thing's for sure: Fannie and Freddie will continue to make headlines.
About Fannie Mae
Fannie Mae, also known as Federal National Mortgage Association (FNMA), is a government-sponsored source of financing for mortgage lenders that provides access to affordable mortgage financing in all markets at all times.  According to the Fannie Mae website, they "help make possible the popular 30-year, fixed-rate mortgage, which provides homeowners with stable, predictable mortgage payments over the life of the loan."
Fannie Mae was founded in 1938 as part of the New Deal during the Great Depression when foreclosures caused nearly 25 percent of the nation's homeowners to lose their homes. The corporation's purpose was to provide local banks with federal money to finance home loans in an attempt to increase levels of home ownership and the availability of affordable housing. Ultimately, Fannie Mae created a liquid secondary mortgage market that allowed banks and other institutions to issue a greater number of housing loans, primarily by buying Federal Housing Administration (FHA) insured mortgages.
About Freddie Mac
The Federal Home Loan Mortgage Corporation (FHLMC), known as Freddie Mac, is a government-sponsored enterprise (GSE) that operates in the secondary mortgage market to keep mortgage capital flowing by purchasing mortgage loans from lenders so they, in turn, can provide more loans to qualified borrowers. Their mission, according to the Freddie Mac website, is "to provide liquidity, stability, and affordability to the U.S. housing market in all economic conditions extends to all communities from coast to coast."
Freddie Mac was created in 1970 to compete with Fannie Mae and facilitate a more robust and efficient secondary mortgage market. This secondary mortgage market increases the supply of money available for mortgage lending and increases the money available for new home purchases.